Most skillful footballers of all time in Nigeria; We found out that no matter what criteria we used to compile the list of "the Best of the Best Nigerian footballers of all time,' it will still remain arguable.
The reason being Nigeria has a lot of great players and it isn't that easily to choose from the lot. But rather than use the rule of thumb in choosing players that made the list, we decided to establish some kind of criteria:
Those players who won some prestigious individual laurels like CAF African footballer of the year or BBC African footballer of the year Awards…
Those who through their individual performances brought so much fame to the sport in Nigeria as well as globally.
We also established that organized football began in Nigeria since 1945, when Nigeria Football Association was created and since then the country have had some great players you can't really ignore or the list will not be truly correct.
It was really difficult to compile this version of the list or how could  players like Finidi George, Uche Okechukwu, Muda Lawal, Emmanuel Okala, Daniel Amokachie, Sunday Oliseh, Vincent Enyeama…. Not make the list of the "10 Best of the best."
ALSO READ: Nollywood: Top 5 Most Expected Movies For December Release
In our own wisdom, we thought it wasn't correct to drop names of players that won such top most awards like CAF African footballer of the year and include the names of those who couldn't win such award in their time.
Let us know what you opinion is about our own version of the list "10 Best of the best Nigerian footballers of all time."
Here are the most skillful Nigerian players of all time:
Most skillful Nigerian player 1
Austin 'Jay-jay Okocha: Born in the year 14 August 1973 (age 46 years) and he hails from Enugu State. There hasn't been any African player that could get near Jay-Jay in terms of his magical skills and flair…. His ball tricks, flicks, leg-over were something out of this world.
In 2004, Pele listed Okocha in his list of the greatest 125 living players of all time. In 2007, Okocha was voted the 12th greatest African footballer of the past 50 years. He won the inaugural edition of BBC African footballer of the year Award in 2003 and retained the Award in 2004.
He was a member of the Nigeria national team that won African cup of nation in 1994 and the Dream team that won Olympic gold Medal in Atlanta 1996.
His net worth which is estimated at 150 million dollars, Okocha is regarded as one of the richest retired footballers. Some may think that for the fact he has retired, Okocha would suffer gross financial erosion.
Most skillful Nigerian player 2
Nwankwo Kanu: born on 1 August 1976 (age 43 years), and he hails from Owerri State. Popularly called "Papilo" during his playing days. Kanu is perhaps the best Nigerian player to have ever lived. His amazingly ball intelligence was in fact supernatural. Pele once said that kanu played more with his head than legs. You can never know what next is in his bag of tricks…
Kanu is probably one of Africa's most decorated footballers in history. .. He won UEFA Champions League trophy with Ajax, UEFA Cup with Inter Milan, three English FA Cup, one English Premier League, Olympic Gold Medal…
Kanu was voted by his club Arsenal as the 13th greatest Gunner of all time. He won CAF African footballer of the year twice in 1996 and 1999.
He was the captain of Nigeria's original Dream team that won Gold Medal at the Atlanta Olympics in 1996.
Nwankwo Kanu is a Nigerian retired professional soccer player who has a net worth of $9 million dollars.
Most skillful Nigerian player 3
Rasheed Yekini: Perhaps, one of African best Player to walk on earth. Nigeria's leading all time goals scorer. Yekini was a menace to defenders… some worth unstoppable giant with speed equivalent to that of Usain Bolt.
Yekini scored  Nigeria's first  world cup goal and also helped Nigeria win the 1994 African Cup of Nation's in Tunisia… he was the highest goal scorer of the tournament.
Yekini scored 37 goals in 58 appearances for the Nigerian national team – Super Eagles.
Yekini started his professional career in Nigeria with IICC Shooting Stars and became the leading goal scorer in the local league. He moved on to win the leading scorer in Ivory Coast league with African Sports.
He then travelled to Europe and also became the leading goal scorer in Portuguese's league with 34 goals in 32 appearances for Vitoria Setubal in 1993 – 94 seasons.
Yekini won the CAF African Footballer of the year Award twice in 1990 and 1993. He was also member of the Super Eagles team that won the African cup of nations in 1994.
Most skillful Nigerian player 4
Teslim 'Thunder' Balogun: Arguably the most popular Nigerian footballer of all time… whose fame has span over five decades since 1949.
Thunder balogun has become a kind of Superhero in the Nigeria folklore… it was said that Balogun's shot rip open the stomach of a player and burst through the goal net.
But in reality, Balogun was the first Nigerian footballer to sign a professional football contract abroad with FC Peterborough in the UK. He brought so much attention to Nigeria at a time the country is largely unknown in many part of the world.
Most skillful Nigerian player 5
Segun Odegbami: popularly called "mathematical" during his playing days… and his fame almost got to the level of divinity after he scored a brace that helped Nigeria win it's first ever African Cup of Nation in 1980.
Odegbami's speed and calculation as his flight the right wing for club and the national team was phenomenal.
He spent most of his playing career with IICC Shooting stars of Ibadan from 1970 to 1984. He scored 23 goals in his 46 caps for his country and helped Nigeria win it's first African nations cup trophy in 1980.
Most skillful Nigerian player 6
Emmanuel Amunike: A great attacking phenomenon that was fond of scoring deciding goals for both the Nigeria national team and his club sides.
He scored the match winner for Nigeria at the Africa cup of Nations in Tuinsia 1994 and also scored the match winner in Atlanta Olympics soccer finals in 1996.
He scored 2 world cup goals in Nigeria's inaugural appearance at US 94 world cup against Bulgaria and Italy.
In his short spell as a player, Amunike remain the most successful player at the national team level. He won both AFCON in 1994 and Olympic Gold Medal in 1996.
He player for the La-liga giant Barcelona in 1996, Sporting Gisbon 1994, Zamlex… He won CAF African footballer of the Year 1994.
Most skillful Nigerian player 7
Victor Ikpeba: Fondly called the prince of Monaco… Ikpeba lit up the whole of the French ligue1 with his mesmerizing skills and goal scoring abilities. He scored 84 goals in 102 appearances for AS Monaco.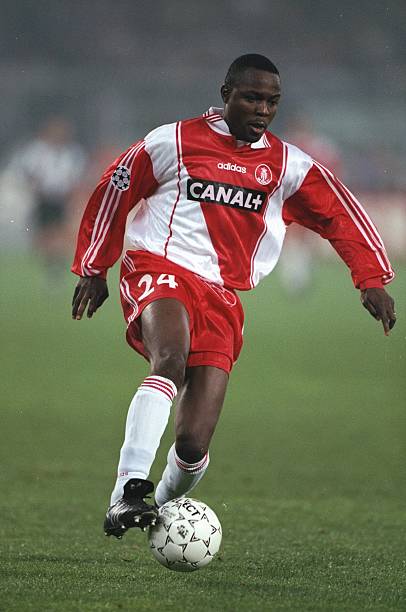 Ikpeba won the CAF Africa footballer of the year award in 1997 and was a member of the Nigerian Dream team that won Gold medal at the Atlanta Olympics in 1996.
Most skillful Nigerian player 8
Anua Lawal Rigogo: A goalkeeper with extraordinary abilities… his acrobatic displays made the then President of Ghana, Kwame Nkuruma, to nickname him "the Flying Cat."
It is said that nobody born of a man can score Rigogo… he only conceded 4 goals in his 42 appearances for the Nigeria national team.
Rigogo was one of the players that made the game of football so popular in Nigeria
Most skillful Nigerian player 9
Stephen Keshi: A formidable central defender with incredible skills… Keshi led the exodus and was said to be the man who opened the door for Nigerian footballers to start playing abroad.
Keshi was the longest captain of the Nigerian national team for ovr a decade and half,,, he also captained teams like Strasburg and sacremento abroad.
Keshi captained the Nigeria national team to its first world cup appearance in 1994. He is the only Nigerian that has won the African Cup of Nation as both Captain and coach in 1994 and 2013 respectively.
Most skillful Nigerian player 10
Taribo West: With his trademark hair doo (Sometimes plated green-white-green) brought so much attention to himself and to his country Nigeria.
He made name in Auxerre, Inter-Milan, then later Derby County and Plymouth… West was quite a character on and off the field… a big nemesis to many strikers in his time. He was known as a defender that played football with his own blood…
He was a member of the original Nigeria Dream team that won Gold medal at the 1996 Olympics in Atlanta USA.